by Gail Inskeep
A few weeks ago I shared a view from a wardrobe design consultation in Whitianga, on a sunny day with blue skies. Today I just have to share another stunning view from one of my consultations, this one just outside of Coromandel town. The view from this room is spectacular — even in the rain!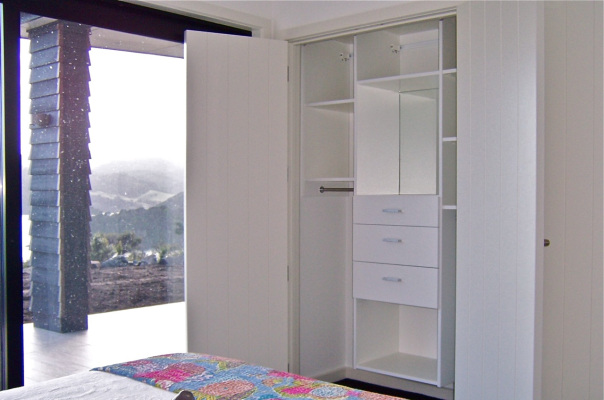 The wardrobe we installed in this room blends beautifully into the simple white walls when its doors are closed. When they're open, it offers everything you need within easy reach.
My favorite feature of this wardrobe is the nice big mirror Kelvin custom fit into the nook above the drawers. It's perfect for putting on jewellery and checking your look. Even better, it reflects some of that amazing view!
Is there a special feature like this that could make your life a little easier? Let us know and we can probably figure out how to build it especially for your space. I'll be happy to arrange a complimentary consultation and no-obligation quote.
I hope you enjoy your view today — rain or shine!